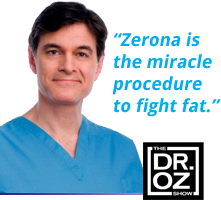 Our Location
5015 Riviera Court

Fort Wayne, IN 46825
Business Hours
| | |
| --- | --- |
| Day | Hours |
| Monday | 7:00 AM to 7:00 PM |
| Tuesday | 7:00 AM to 7:00 PM |
| Wednesday | 7:00 AM to 7:00 PM |
| Thursday | 7:00 AM to 7:00 PM |
| Friday | 7:00 AM to 7:00 PM |
| Saturday | Closed |
| Sunday | Closed |
Testimonials
The future of liposuction, a brand new laser called Zerona. It zaps away fat without the bruising, scars or downtime. - Dr. Travis Stork from The Doctors
The miracle procedure to fight fat without undergoing the knife. - Dr. Oz
The Zerona laser achieves what we consider to be the holy grail of plastic surgery. - Dr. Youn from the Rachael Ray Show
The Zerona is a cool touch laser that is used on the outside of the skin to melt fat. - Early Show
One of the things that is so exciting about this laser is that everyone is a potential patient. It's the first time we've been able to target pockets of fat and liquefy them. - Kelley West, R.N. from Good Day LA
"I am so happy with the Zerona treatment. My body has been totally transformed. It is better than it ever was even before children. I lost my hips and my thighs are thin. For the first time in my life, I am completely happy with my body. I know this outcome was directly from the Zerona treatment because it is the only thing different than what I have done for years and years." - Zerona patient testimonial, courtesy of Dr. Steele
"It's so freaky, this can't work, but after 12 treatments in a month last summer, costing $3,400, I lost 11 inches from my waist, thighs and hips and I have maintained my new figure since then." - Kate Killgore, 37, of Los Angeles
"We're very excited about the Zerona body slimming laser. Our initial results have exceeded our expectations. Our first two patients to complete their treatment series have lost 4.5" to 5.5" in their waists, hips and thighs." - Ferdinand F. Becker, M.D., F.A.C.S., Advanced Facial Cosmetic & Laser Surgery Center on Zerona
"Based on the way I wanted my body to look, my doctor recommended 10 Zerona sessions. Within those 10 sessions I lost 16.25 inches of fat; 5 came from my abs." - Abby Johnson
"After only 6 sessions with the Zerona last, I was able to lose 4.6 inches of total fat. What I was most excited about, was the 1.6 inches I was able to lose in my abs." - Brian Townley
"In 9 Zerona sessions, I lost 3.9 inches of fat. 2.5 being from my hips and thighs, I was so excited with the results." - Karla Martinez
"I think Zerona is a wonderful enhancement in the "quest" to lose inches and pounds. It's very relaxing, you feel nothing and you lose inches as long as one follows the "rules" (which I did). I see a difference in my stomach, waist, hips and thighs – also much less "back fat". I have recommended this to my friends. They like my results and will try it in the future." - Fran, after her Zerona treatments.
"Zerona has totally changed my life. Not only have I lost 12.5 inches in body measurements, but I've made changes in my diet and exercise program since, which has enabled me to continue slimming. None of this would have been possible without my Zerona treatments. Thank you for helping me get back to the body I had before I had 4 children." – Brenda, after her Zerona treatments.
"I've always been concerned about my changing shape as I was getting older. I was starting to go through menopause, I always followed a balanced diet and exercise regularly, but it wasn't enough. I decided to try Zerona. After 6 treatments, I was down 5 inches. I came back a week later and my results were staggering. I lost a total of 10.5 inches!" – Marie, after her Zerona treatments.
"I am a single mom of two that exercises and eats right, but after my last c-section I wasn't able to get rid of my tummy bulge. The treatments were a time to relax and enjoy "me time". All in all, the Zerona experience was affordable, convenient, and I did not have to take time off from work." – Stacy, after her Zerona treatments.
"February 2010 I saw a commercial for Zerona and knew I wanted to try it. After losing 40 pounds, I decided to reward myself with Zerona treatments. It was one of the best decisions I've ever made. After Zerona, I felt empowered to continue my weight loss. Zerona was a great investment into the asset that is "me". My experience with Zerona has made me stronger, leaner and healthier!" – Toni, after her Zerona treatments.
"I am so happy with the Zerona treatment. My body has been totally transformed. It is better than it ever was even before children. I lost my hips and my thighs are thin. For the first time in my life, I am completely happy with my body. I know this outcome was directly from the Zerona treatment because it is the only thing different than what I have done for years and years." - Phyllis, after 9 Zerona treatments.
Shrink Fat Cells With Zerona Treatment

Call New Life Body Sculpting at 260-471-1120 or contact us online today
Featured Video
The future of liposuction, a brand new laser called Zerona. It zaps away fat without the bruising, scars or downtime. - Dr. Travis Stork from The Doctors