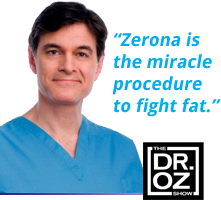 Our Location
5015 Riviera Court

Fort Wayne, IN 46825
Business Hours
| | |
| --- | --- |
| Day | Hours |
| Monday | 7:00 AM to 7:00 PM |
| Tuesday | 7:00 AM to 7:00 PM |
| Wednesday | 7:00 AM to 7:00 PM |
| Thursday | 7:00 AM to 7:00 PM |
| Friday | 7:00 AM to 7:00 PM |
| Saturday | Closed |
| Sunday | Closed |
Zerona vs. Liposuction
With so many options today for body sculpting you may be asking yourself how Zerona stacks up against the more traditional procedure, liposuction. Below you will see the pros and cons for both Zerona and liposuction.
Zerona
Zerona is an FDA cleared non-invasive body contouring device that safely and effectively removes excess fat without the negative side effects associated with surgical methods. Zerona utilizes the cold laser technology developed by Erchonia, which emulsifies your fat and allows it to move to interstitial space, where your lymphatic systems picks it up and removes it naturally from your body. This technology was originally discovered and assisted liposuction procedures, because it was found that the cold laser treatment alone helped patients to reduce inches from their waist, hips, and thighs.
Pros:
Completely non-invasive
No surgery or anesthesia required
Totally painless
Results in 2 weeks
ZERO downtime, patients can return to their normal activities immediately after treatments
Instead of removing or harming the body's fat cells, Zerona creates small holes in the fat cell so the fat can naturally be filtered through the body's lymphatic system naturally
Shrinks fat cells instead of removing them, making it impossible to become disfigured or scarred during the procedure
FDA cleared for its safety and effectiveness for removing fat
Cons:
Zerona is not a miracle pill. You must maintain your fat loss through a healthy and active lifestyle. If you do not, your fat cells will re-plump.
Results vary from patient to patient. Some may lose 3 inches while others may lose much more.
Liposuction
Liposuction is the surgical procedure of removing fat from beneath the skin using a hollow stainless steel tube (called a cannula) with the assistance of a powerful vacuum. Liposuction is usually accompanied by either with the use of general anesthesia, with heavy IV sedation or by local anesthesia.
Pros:
You can lose inches rapidly with no diet or exercise
Liposuction has been the quickest and most successful way for patients to remove stubborn belly fat
Fat removal is permanent
Cons:
Liposuction is an invasive surgical procedure
Requires anesthesia, which can add risk
Any type of surgery comes with serious risk
A patient's downtime is usually one to two weeks before they can resume normal activities
Since liposuction removes the fat cells, if a healthy/active lifestyle is not maintained the fat has been proven to return to the body in unnatural areas (shoulders and arms)
Scarring can occur
Shrink Fat Cells With Zerona Treatment

Call New Life Body Sculpting at 260-471-1120 or contact us online today
Featured Video
The future of liposuction, a brand new laser called Zerona. It zaps away fat without the bruising, scars or downtime. - Dr. Travis Stork from The Doctors